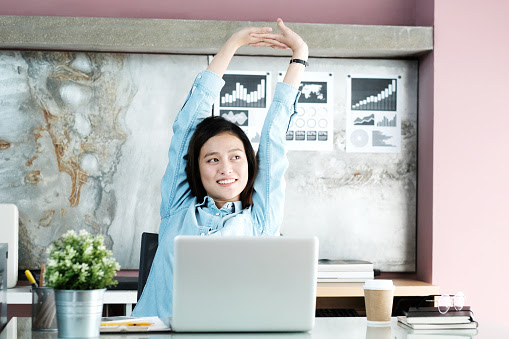 Productivity really is the secret to everything in terms of your business' success. Happier employees tend to be more productive, which is why it is essential that you focus on things like corporate culture and team-building exercises whenever the opportunity arises.
---
Work/life balance? No problem, right? But then those daily tasks start to add up and your nights start getting longer. You start going in on the occasional Saturday, then the "frequent" Saturday. Pretty soon you're so bogged down with your "to-do" list that you can't even think about taking that vacation with your family.
---
Wouldn't it be great if you could print your own money? Life would be so much easier, right? Well, maybe not, but here's a little secret that feels like printing money: print advertising.
---
More employees are working remotely than ever before. According to research conducted by GlobalWorkplaceAnalytics.com, roughly 50% of the workforce in the United States holds a job that is "compatible" with at least partial telework. Of those people, about 20 to 25% of them actually do work remotely at some frequency.
---
Have you ever ordered printing and were disappointed when you got your product? Was the order wrong? Did it take too long? Was it the wrong paper? Here are the most common mistakes we see when print buyers place orders.
---
Are you where you want to be in your job?
1) Are you passionate about your work?
There seems to be a difference between going through the motions and being inspired. A little quiet self reflection can reveal the truth. Do you hit the snooze button several times on your alarm? Do you dread work on Sunday nites? There is a difference between a job and a career.
---
At BlueVision Printing & Graphics, we are blessed to have wonderful customers from a variety of businesses who humble us with their loyalty. Here are a few nice things our customers have said about us recently
---
If your company is hosting an event or attending a trade show, one of the best ways to market your business is with print signage and promotional products. Spread your company's name by marketing your brand with banners, brochures, door hangers, envelopes, folders, stickers, magnets, mugs, posters, t-shirts, and business cards.
---
Thanks for stopping by our blog. If you're looking for more information about BlueVision Printing and Graphics, you've come to the right place.
---
1) Understand your turn time to complete job - allow enough time to meet your deadline accurately.
Digital print with little bindery - -3 days
Direct mail usually requires 3-5 days to print plus 1-2 more days for mail processing.
Traditional Print - 5 working days
---